One feature that has been available for some time now is Instant Feedback. This is a closed-loop feedback mechanism that works by embedding a question in an email, and updating the recipient's lead or contact record in real time when he/she responds. It's a gem that deserves more attention.
Here's an example:
You would start by creating a custom field in (let's say) the lead record that will receive the response. In this example the custom field, with name When Expect To Buy, is a picklist created in the Salesforce Setup area under Customize Lead Fields.
With this in place, it's a simple matter to embed the question in an html email. In the html editor Instant Feedback tab, you would make selections something like this.

You would then set the insertion point by clicking where in the email body you want the questions to go, and then click Insert. The question would then appear in the email, with a look as follows: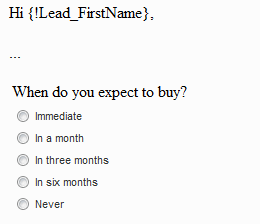 Although they look like radio buttons, they are actually links which, when clicked, update the lead record in real-time.
This is a 'self-service' feature, the advantages of which should not be missed.
The effort required to make changes in lead records is eliminated – the prospect does this for you
It provides an opportunity for interaction, which interested prospects and customers appreciate
It can take advantage of the 'Check Before Send' feature to move a prospect or customer to another rule more relevant to his/her needs
It can be used to automatically segment your database – without you lifting a finger!
This is automation at its best, and it has been used effectively by many users. Is this something you would be interested in?